12 Productivity Apps that Drive My Business
Staying on top of things is absolutely critical to owning a business. When you're running a solo shop, like myself, you need to have systems in place for accounting, communication, record-keeping, task/event management, and social media so you can continue growing your business while fulfilling the promises to your clients. Keeping my game tight is a constant struggle. As a creative entrepreneur, I wear a lot of hats to keep myself moving forward and my business on track. To keep my business engine running, I've integrated a few apps to help me with the day-to-day maintenance and organization. Together, they allow me to manage almost every aspect of my business from wherever I am. So, here are my 12 favorite apps that I use almost every day (in no particular order).
Swipes
I'm a big fan of simplicity and this app is about as simple as it gets. I use Swipes as my daily task manager to sort and remind me of everything I need to do. I can easily set reminders, sort tasks by status or tag, and snooze a task for another time by giving it a quick swipe. You can even customize the snoozes for specific times to ensure that they fit within your schedule.
Fantastical 2
Fantastical is my business calendar of choice to maintain all my shoots and meetings. It's got a natural language processing engine which makes adding events easy. The clean interface allows me to quickly see a snapshot of upcoming events and easily set reminders so nothing is forgotten. It even syncs with all my devices so I can have all my information whenever I need it.
Apple Mail
The native Apple email application is still one of the best. As a matter of fact, this email app incorporates so well into my business that I've never had to change. I use it all the time to talk with leads, current clients, and wedding vendors. I've got multiple folders and flags to prioritize action items and even some triggers set to help me automate my inbox organization.
Evernote
This is one of my favorite apps and it's completely changed my business. I primarily use it to help me keep track of business and blog post ideas when I'm on the go. It's also been instrumental in helping my business go paperless by archiving my receipts and client contracts. It syncs to all my devices, allowing my to take everything with me — invaluable.
Scannable
Scannable is the document scanning compadre to my Evernote. This app hijacks your phone's camera and will automatically scan a document if placed on an area with high contrast. Then, with a few quick taps I can import the scan directly into a specific Evernote notebook. This app works brilliantly if you just want to scan receipts or even multiple page docs like a contract.
Mileage Log
I'm on the road a lot and I've adopted this app to create and archive my mileage log. From within the app I name a trip, enter the amount of time I was gone, and then add the mileage taken from my car's odometer. It keeps track of all my trips during the year and totals them up. When tax time rolls around, I export the information in PDF or CSV and include with my tax paperwork.
You Need A Budget
While this is a monthly budgeting app, I've adapted it to handle my business accounting and it's worked wonders. It allows me to log and sort all of my transactions by a variety of criteria such as payee, date, and category. It totals everything in real time and even allows me to pull beautiful 3D graph reports so I can break down spending by category. Best of all, it syncs to all my devices!
VSCO Cam
This is one of the best photo apps and I use it all the time in place of my iPhone's native camera app. The minimalistic interface is slick and easy to navigate. It also comes with a complete array of tools to edit virtually everything about your photos and also allows you to purchase filters to simulate vintage film stocks. Best of all, I can share to all my social media outlets with a few taps.
Everypost
Social media is a big part of our lives and with so many services, it can get overwhelming. Everypost is a great little app that enables you to hit all of your social media channels from just one screen. All you need to do is link your social accounts, add your content or media to the post box, select the accounts you want to send it to, then click share and away it goes.
Feedly
Feedly is a phenomenal RSS reader and I consider it my digital newspaper. I use it daily to receive updates from all of my favorite blogs. From within the app I can search and add blogs, sort them into different categories, read posts, and save interesting articles to read later. And, if I find an article that I think others would like, I can even share it too.
Dropbox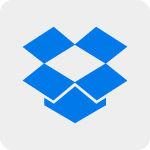 Of all the file sharing applications out there, Dropbox is still my favorite. It creates a dedicated folder on my iMac that I use as a dumping ground to keep my important docs available on all my devices. I've also used it to host image galleries for wedding vendors and blogs if they request some of my images to market or promote their businesses.
Photosync